In celebration of the Year of the Languages
The Cultural Program of the Embassy of Greece, in collaboration with the Greek Program and the Hellenic Society of Georgetown University, The Tsakopoulos Library and Greece in Print, presents
A LINGUISTIC JOURNEY IN THE AEGEAN
With a film screening, a book presentation, readings and books display
6:00 p.m. - 8:30 p.m. April 20, 2005
Intercultural Center Auditorium
GEORGETOWN UNIVERSITY
37th and O Streets, NW, Washington, DC 20057
FILM: THE AEGEAN IN THE WORDS OF THE POETS
Director: Lucia Rikaki
61 min., 2003, English subtitles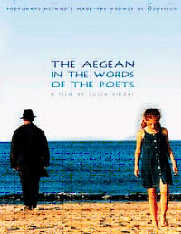 A documentary film based on the works of writers and poets from around the world who traveled to Greece during recent centuries and were inspired by the Aegean Archipelago.
The poems, excerpts and travel notes of acclaimed literary figures are illustrated with lively imagery from most of the Aegean islands that enhances the rich cultural and natural landscape of the Aegean Sea.
It is a literary journey narrated in different languages with English subtitles that blends the past with the present through breathtaking sceneries and poetic beauty.
BOOK: CIRCLE DANCE
By: Lynne Constantine and Valerie Constantine
Set in Baltimore, Annapolis and on the island of Ikaria, Circle Dance gives the reader a view into the lives of a dynamic family which has successfully achieved the American dream without abandoning the customs and traditions of their Greek heritage. Artfully intertwined plots bring generations together in a dance of rejoicing and mourning, loss and healing. Published in June 2004, Circle Dance has been chosen by Borders Books as a December Book Club selection.